ACECQA Newsletter Issue 10 2019
ACECQA CEO Foreword
As we move rapidly to December – nine weeks to the end of the year – welcome to our 10th edition for 2019.
This newsletter provides a number of perspectives on issues that are topical.  For example, the use of digital technologies is a hot topic both here in Australia and in several other countries provoking us to reflect on children's agency as well as why and how these technologies are being used.  Are they used to document children's authentic learning moments?  Have children been asked permission before their image is taken?
This raises the importance of how well we know each child – their families, background, culture and context – and how we understand their feelings, desires and support their language development.  Research is clear that language development and capacity to communicate is an extremely important element for children to flourish, equal to physical, emotional, social and cognitive skills. How many conversations do you have with each child every day to extend their language skills and support their socialisation and agency?
Another hot topic is the early childhood education and care workforce both in meeting demand for Early Childhood Teachers (ECT) and the support of educators to build long and close relationships with children and their families.  We include a reminder for the January 2020 ECT requirements for services. 
Again, the research is clear about the relationship between highly qualified and experienced teachers and high quality pedagogy and practice.  A recent article in the European Early Childhood Education Research Journal (which often includes articles from Australian researchers) highlighted the crucial skills needed by teachers and educators for young children's optimal development – starting with knowledge of infant development and relationship development, in-depth observation skills and physical and emotional connections with children.
Please take your time reading these articles and share with your colleagues when you can.
---
Documentation and the rights of the child
Our National Education Leader, Rhonda Livingstone, recently unpacked the What, why and how of documentation in her We Hear You blog. As part of this discussion, Rhonda encouraged educators and service leaders to reflect on the rights of the child when making decisions about the most effective ways to document children's learning and development.
Australia ratified the United Nations Convention on the Rights of the Child (CRC) treaty in December 1990. Building on the rights set out in other treaties, the CRC outlines rights that specifically apply to children. The four CRC Guiding Principles that underpin the CRC are:
respect for the best interests of the child as a primary consideration
the right to survival and development
the right of all children to express their views freely on all matters affecting them
the right of all children to enjoy all the rights of the CRC without discrimination of any kind.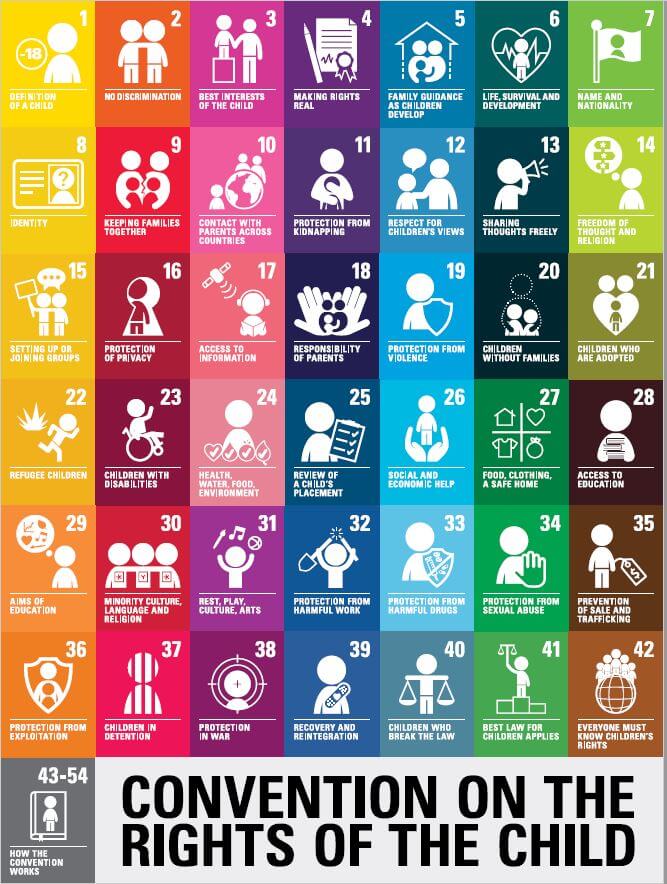 When reflecting and deciding on documentation of children's learning and learning progress, it is important to consider these rights. Some questions that may help guide your practice include:
How are children supported to participate in the documentation process and have their voices heard?
CRC Article 12 states that children who are capable of forming their own views have the right to express these in all matters affecting them and that due weight is given to them. This aligns with the National Quality Framework view of children as capable and competent, and the promotion of their right to be active participants in ways that are appropriate to their age and abilities.
Respectful and meaningful engagement with children and ensuring their voice is reflected in documentation can empower children to shape (and contribute their perspective to) their learning. Providing the time and space to have conversations with children encouraging them to express their views and suggestions is essential.  Of course young children converse and express their perspectives and ideas in many different ways - for example, verbally, non-verbally, through visual and creative arts.
As teachers and educators, we seek children's views by engaging them in real conversations perhaps starting by asking open questions such as: What do you think? What do you like about…? How do you feel …? What is important to you? Listening and responding authentically demonstrates your role and commitment to their language development as well as promoting their agency and rights.
How are children's rights considered in documentation processes?
As a team, you might explore age-appropriate strategies to seek child's permission before taking images of them or the artefacts of their learning (or at least explain why), as well as considering the possible impact of adding to a child's digital footprint.
Visual documentation of children's learning and learning progress may provide unique and engaging insight, and digital devices are increasingly being used as a tool to record and share children's learning journeys. When making decisions about what and how to document, it is important to consider children's rights and privacy, how digital media will be shared, and what potential impact this may have on children's digital footprint (now and into the future).
A 2010 study found that 81% of children under the age of two have some kind of digital profile or footprint, with images of them posted online.  Close to a decade later, the UK Children's Commissioner 2018 report 'Who knows what about me?' confirms that more data about children are being collected than ever before. Recent Australian eSafety Commissioner research says that 81% of parents with children aged two to five years old say their children use the internet. Of these parents, 94% report their child was already using the internet by the age of four.
In this complex digital age, issues of consent, privacy and digital footprints highlight the importance of informed and ongoing conversation and reflection between children, families and services. It may be timely to engage in this conversation and reflect on how children's learning journey can be documented and shared in meaningful and respectful ways taking into account children's perspectives and acknowledging their rights.
Further reading and resources:
eSafety Commissioner – Education resources
Gowrie Victoria and Early Childhood Australia – In their shoes  
Government of South Australia – Children's Voices: A principled framework for children and young people's participation as valued citizens and learners
Office of the Advocate for Children and Young People – Participation resources
UNICEF Australia – The Children's Report
UNICEF – Revised CRC for 2019
---
A focus on building and maintaining community partnerships
Meaningful engagement with the community is a theme for practice that exceeds the National Quality Standard. Reflecting on strategies that educators use to meaningfully engage with the local community has the potential to support children's sense of belonging as the service helps the community to recognise children as active participants and citizens. The Guide to the National Quality Framework (p.273) reminds us that when services develop respectful and responsive connections with their immediate or wider community, they are likely to further enrich the educational program for children.
Children's Week, 19 October through to 27 October 2019, provides an opportunity to focus on how your local community views children, giving them opportunities to contribute to decisions that affect them and their families, and further building and maintaining connections and partnerships that will support their development, safety and wellbeing.
Recently the ABC has featured stories about connections between early childhood services and age care facilities, and research is being undertaken by Griffith University to identify the benefits for children and older people through this relationship.
Excellent rating applications offer many examples of how services have empowered children to participate as citizens in their community in meaningful ways. One service advocated for children's ideas to be heard in the development and construction of a new bridge complex, and another supported children's suggestions to shape the development of a new museum for children.
In reflecting on what is possible, meaningful and relevant for your children, families and local community, consider what opportunities there are to connect community organisations and leaders with children's thinking, interests, knowledge and skills.   Are you an active advocate for children, respecting and promoting their ideas and perspectives?  Are you connected with the local community so you know opportunities to identify and engage in respectful, mutually beneficial partnerships?
Here are a few examples from services awarded the Excellent rating.  Hopefully, they will stimulate thinking and discussion about what might be relevant and meaningful in your service:
Yirrkala Preschool (NT) acknowledged the need to improve engagement and build genuine partnerships between the service, local school, families and community. The service began an action research project which highlighted the importance of providing family and community members with a space to think and communicate in its first language, Yolngu Matha. This led to the creation of a Women's Learning and Action Circle.
Forrest Out Of School Hours Care (ACT) is committed to providing large loose parts play through a dedicated outdoor space. To support this interest, the service commenced a partnership with its local Green Shed, a community based waste management organisation. Through this partnership, the service refills its trailer with new loose parts every two weeks free of charge and returns items after they have been fully explored by the children. This partnership demonstrates how working with local organisations contributes to wider community goals and sustainable practices.
Albert Park Preschool Centre (VIC) created a 'Healthy Together Achievement Team' with the combined effort of educators, family and committee members and health professionals. This team introduced community walking tours and an annual family sports day. The service has also recently been recognised as the first early childhood service in Australia to be certified carbon neutral.
These examples of practice from Excellent rated services highlight the uniqueness of each service's children and families.  No two communities are exactly the same and the needs and interests of children and families change throughout the year and with each new year.  Reaching out to community organisations can result in faster and enduring responses and mutually beneficial outcomes for everyone.
For more information on Excellent rated services, visit our website.
---
New Starting Blocks resources to share with your families
Our family focused website, StartingBlocks.gov.au has information to help families learn about quality education and care for their children. This month, two new resources have been added that you can share with families.
Managing children's challenging behaviour in child care – Biting – biting is sometimes a behaviour in young children that cannot be avoided. This resource helps families and educators understand how they can help minimise biting incidents.
Pros and cons of letting your little one watch TV – screen time for children can be positive, but how do you achieve a balance? This new fact sheet outlines how families can help their child achieve a balance of screen and non-screen time.
For more resources to share with your families, visit StartingBlocks.gov.au.
---
Latest ACECQA Enquiries customer service survey
We are committed to quality improvement and to help us improve our services, we run a regular enquiries survey.  In the most recent survey, 92% of respondents said that our Enquiries Team resolved their enquiry.
Our Enquiries Team is available Monday to Friday to answer questions about the National Law and Regulations and to help staff and providers to find useful resources. Any contact you have with ACECQA is confidential and will not affect future assessment and rating visits. Assessment and rating visits are conducted by each state and territory regulatory authority and so questions about when and how this process works are best answered by them. They can also answer enquiries about forms you've submitted via the NQA ITS.
You can contact the ACECQA Enquiries Team on 1300 422 327 or email [email protected]
---
Public consultation on draft updated Inclusion Support Program Guidelines
The Department of Education has published draft updated Inclusion Support Program (ISP) Guidelines to provide stakeholders with an opportunity to provide feedback until 11 November 2019. The Guidelines describe how the ISP will operate, including eligibility, application and assessment processes.
The proposed changes are based on advice from the Australian Government's ECEC Reference Group, services, Inclusion Agencies and other stakeholders.
The Department is encouraging feedback so please forward this email to any interested stakeholders. Feedback will be used by the Department to inform the final ISP Guidelines, which are expected to come into effect from January 2020.
How to provide feedback on the draft updated ISP Guidelines
Consider the proposed changes published on the ISP Guidelines consultation webpage where you can find the consultation draft ISP Guidelines, a summary of the key proposed changes and a link to the survey questionnaire.
Complete the short online survey on the guidelines (available until 11.59 pm AEST, Monday 11 November 2019) and/or
Email your feedback directly to the Department of Education by 11.59 pm AEST Monday 11 November 2019.
For any enquiries, please email [email protected].
---
Reminder – additional staffing requirement from 1 January 2020
From 1 January 2020, providers of centre-based services need to have a second early childhood teacher or, alternatively, a 'suitably qualified person' in attendance when 60 or more children of preschool age or under are being educated and cared for.
The 1 January 2020 requirement is the final scheduled step up in educator qualification requirements that were originally announced in 2010, and have been progressively introduced since January 2012. Regulations 133 and 134 of the Education and Care Services National Regulations detail the requirement.
Services located in NSW are unaffected by these changes, as additional ECT requirements have been in place for several years.
Recognition as a 'suitably qualified person'
In October 2018, the ACECQA Board determined the following qualifications are required for a 'suitably qualified person':
An individual who is 'actively working towards' (see Regulation 10 of the National Regulations) an approved early childhood teaching qualification AND has completed at least 50 per cent of the qualification or holds an approved early childhood education and care diploma
OR
An individual who is registered (accredited in New South Wales) as a primary or secondary school teacher in Australia AND holds an ACECQA approved early childhood education and care diploma (or higher approved qualification).
These qualifications are published on our approved qualifications list. Service providers should retain evidence of the primary or secondary teaching qualification, teacher registration/accreditation and ACECQA approved diploma level (or higher) qualification as evidence that an educator meets the requirements. The requirement for an ACECQA approved diploma level (or higher) qualification is separate to the requirement for a primary or secondary teaching qualification (i.e. two separate qualifications are required).
A 'suitably qualified person' can be counted towards educator to child ratios when working directly with children, in the same way that an ECT can. For more information please refer to the ACECQA website.
---
Ways to promote NQS rating
In our last newsletter, we explored the importance of promoting your National Quality Standard (NQS) rating to families and communities. Like you, we have a role in providing families with information that helps them understand service quality.
When sharing your NQS rating logo with families, it is important that your service's current rating is displayed. Once your service has been rated against the NQS, it is mandatory to display your overall quality rating and the rating for each quality area so that it is clearly visible to anyone from the main entrance to the service premises. The penalty for not properly displaying a service quality rating is up to $15,000.
If your service has achieved an overall rating of Working Towards, Meeting or Exceeding the NQS, you can request the NQS rating logo on the national registers. The logos can be used on promotional materials such as your service's website, your service's social media pages, your email address, letterheads or banners or stickers.
You can also contact your local newspaper to promote your service's quality ratings. To find out how you can request your rating logo, or for information on how to find and contact local media, visit our website.